Center for Mouse Genome Modification (CMGM)
General Contact
gttf@uchc.edu
Siu-Pok Yee, Ph.D.
Director, Center for Mouse Genome Modification
Associate Professor of Cell Biology
syee@uchc.edu

860.679.3726
Kate Lowther, Ph.D.
Assistant Director
lowther@uchc.edu

860.679.3726
Deborah Kaback, B.Sc.
Research Associate
kaback@uchc.edu

860.679.3726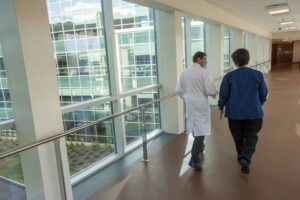 The Center for Mouse Genome Modification provides consultation to accommodate the specific needs and nature of each project and is aimed towards discussion of the specific genome modification and nature of the project. The consultation will help develop strategy, design of donor/targeting vector and other specific molecular reagents, and to formulate a final plan to generate and manage the novel mouse strain.
Design and Generation of Genetically Modified Mice by CRISPR and ES Cell Technology
The decision to use CRISPR or ES cells to generate genetically modified mouse strains depends largely on the genomic structure of the gene of interest and the nature of the specific modification such as KI, KO, cKO or cKI etc. In general CRISPR is faster and less expensive, so it is the first choice when possible. Most CRISPR projects take 3-7 months to obtain F1 mice, whereas ES cell projects typically take a year or more.
CRISPR: We have successfully produced different novel mouse strains with gene specific KO, KI (insertions of DNA fragments up to 9kb), point mutations, precision deletions (removal of specific introns), and other novel mouse strains using CRISPR mediated gene editing directly in early mouse embryos.
What Do We Need

ID of the gene of interest such as MGI no, gene ID or Genbank accession no
Specific genome modification
Completed request form

What Will We Do

Design and preparation of CRISPR reagents, donor vector or ssDNA
Test efficiency of sgRNA in early mouse embryos
Perform microinjection of CRISPR reagents and donor template into one-cell embryos
Genotyping live born pups to identify potential founders
Breeding founders to generate F1 pups and PCR sequencing for confirmation

We will deliver positive F1 pups. We cannot guarantee positive founders or F1 pups if the specific genome modifications severely compromise the viability or fertility of the founders.
DNA Pronuclear Microinjection
The full service includes DNA purification, microinjection and housing potential transgenic pups until three weeks old. After this point, the investigator is responsible for colony management and housing charges.  We guarantee three transgenic mice or 50 pups whichever comes first.
Embryonic Stem Cell Targeting
The Center for Mouse Genome Modification (CMGM) uses an in-house ES cell line derived from F1(C57BL/6j x 129sv) embryos for gene targeting. This ES cell line is germline competent and will be used for electroporation of the targeting vector.
What Do We Need

ID of the gene of interest such as MGI no, gene ID or Genbank accession no
Specific modification
Completed request form

What Will We Do

Design and construction of targeting vector
Preparation of targeting vector for electroporation
Electroporation of ES cells, drug selection, pick drug resistant colonies and preparation of DNA plates for screening
Expand positive ES clones for genotyping confirmation
Generate chimeric animals by ES<->morula aggregation
Breeding chimeric animals to remove drug resistant cassette
Genotyping to identify positive F1 pups

We will pick and screen 192 (equivalent to 2 x 96 well plates) drug resistant clones. We guarantee germline transmission if we perform all procedures and use our in-housed derived ES cell line for electroporation.
Please contact the Center for Mouse Genome Modification if you would like to provide us with the targeting vector or use other ES cell line/clones and other details.
Import Mouse Lines by Embryo Transfer
Shipping Mouse Embryos from Other Institutions: When you import mice from other institutions, instead of shipping mice you can ask them to ship mouse embryos in a vial by FedEx. The following is the protocol of shipping embryos for mice providers:
Superovulate donors and collect E3.5 blastocycts.
Equilibrate ES media without LIF in a CO2 incubator for at least two hours.
Fill a cryovial with the ES media (without LIF) to the top to avoid trapping air in the vial.
Transfer the embryos to the cryovial and seal the vial with parafilm.
Send by FedEx in an envelope with bubble wrap when weather is mild. In winter, warm ice packs in incubator overnight at 37°C. Then put pre-warmed ice packs in a styrofoam container to make a small incubator for embryos.
Inform the CMGM when the donors are superovulated, so that we can prepare the embryo recipients.
Please submit a completed Rederivation Request Form.
This includes housing the pups until three weeks old. After pups are weaned we need to do health testing for recipient moms. The cost will be paid by investigators.
If you would like to ship cryopreservated mouse embryos, a dry liquid nitrogen shipper is available at the CMGM. Please contact the CMGM for more information.
Mouse In Vitro Fertilization (IVF) can be used to rapidly expand mouse lines from a few males that carry the desired genotype or to maintain strains with poor breeding efficiency.
Mouse Colony Management
The CMGM offers mouse colony management as a service to maintain your specific mouse line.  The CMGM facility is maintained at level zero containment.  All mice enter the facility have to come from an approved vendor or via rederivation. We use a purpose built FileMakerPro program to document all mouse lines housed inside our facility. You will have access to the status of your specific mouse line through the UCH intranet.
Mouse Embryo Cryopreservation
If the mouse line is maintained as heterozygous, at least ten stud males between six weeks and six months old are needed. The GTTF will provide superovulated female embryo donors. The users should pick these donors up at the GTTF and mate them with the stud males. The users will harvest oviducts/uterus and give them to GTTF.  The GTTF will collect E2.5 embryos from the oviducts.  Up to ten embryo donors will be used in each session.
Rederivation of Contaminated Mouse Lines by Embryo Transfer
The services includes purchasing and housing recipient female mice, housing vas males, hormones for superovulation, embryo collection, embryo transfer, housing pups until three weeks old and tail biopsy. The fee covers one attempt and a second attempt if the first attempt does not result in any positive pups. If both attempts fail due to low embryo yield, the investigator may pay for additional attempts.
List of Equipment
Sutter Model P-97 micropipette puller (self service)
HERAcell  VIOS 160i incubator (self or full service)
NepaGene Nepa21 typeII super electroporator (self or full service)
Nikon TE300 eclipse microscope with Narishige MMO-4 micromanipulator (full service only)
Campus Address
UConn Health, Main Building
Mailing Address
263 Farmington Avenue, MC 3001
Farmington, CT 06030-3001